Navigation

Welcome to the Retirement Village Training Programme
The Gold Standards Framework (GSF) Retirement Village Training Programme Increasing numbers of people are now living in retirement villages, communities or schemes. As such, in July 2018 we launched the GSF Retirement Village Training Programme leading to Accreditation and the Quality Hallmark Award. Since 2000, GSF has been a leading training provider in the health and social care sector, helping teams deliver personalised, quality care so that people can live well until they die. GSF helps you to provide residents with care that is proactive - with earlier anticipation of need, and more person-centred, built on advance care planning discussions offered to every resident to help them create the space to clarify their wishes, goals and preferences for the future. The programme also enables providers to deliver care that is systematic, involving everyone with improved communication with other health and social professionals resulting in more coordinated care for your residents. This programme is specifically tailored to suit the needs of an ageing population - for all people in their final chapter of life, enabling them to live well, helping to provide 'gold standard care for their golden years'.
GSF helps implement national policy in practice. GSF improves proactive, personalised, well-coordinated care, in line with the NHSE Long Term Plan, NICE Guidance, supporting GPs' Quality Outcome Framework and Enhanced Health in Care Homes (EHCH), enhancing quality of care and reducing crisis hospital admissions and deaths, whilst providing evidence of impact for CQC and local commissioners.
The GSF Accreditation Quality Hallmark Award is nationally recognised as a kite-mark for quality, recognised by Care Quality Commission, and co-badged with Associated Retirement Community Operators (ARCO), Care England, National Care Forum, National Care Association, British Geriatrics Society, Royal College of GPs and other national organisations, with high numbers of 'CQC Outstanding' organisations being GSF Accredited. In 2019 we celebrated with Extracare who were the first group of Retirement Villages in the country to be GSF Accredited!
GSF Retirement Villages Programme Nutshell. Watch this short video to find out how the programme can help your retirement village deliver gold standard care to all of your residents.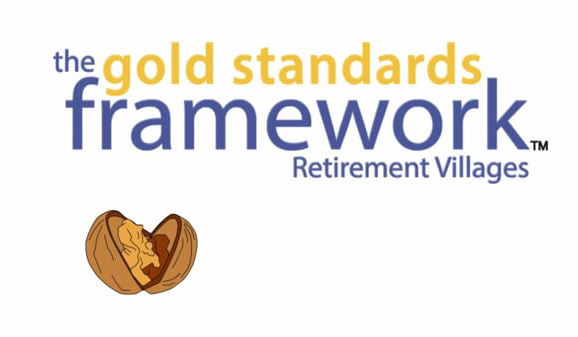 The training includes:
8 Live Webinar Sessions: Each session covers one of the GSF 7 key tasks, sharing good practice and monitoring step-by-step progress.
Tools & Resources: Exclusive access to our members area and resources, including teaching materials, posters, videos, leaflets and good practice guides.
Measures: Intrinsic evaluations showing benchmarked change and progression over time. The evaluations are at the organisational, resident and staff level and are aligned with national targets to demonstrate change.
There are three different ways to access the programme:
Silver programme: Villages attend 8 live training webinars (2.5 hours per webinar), there is a webinar every 3 weeks over 6 months
Gold Programme: Villages attend 8 live training webinars, there is a webinar every 3 weeks over 6 months. On completion of the training programme the village staff give themselves 6 months to embed their learning into practice before applying for accreditation.
Bespoke flexible delivery of the programme nationally for your group of villages (corporates), or for villages within a locality (CCG/ PCN/ ICS footprint).
The Accreditation Process
There are four parts to the process:
Part 1: Key Outcome Ratios - evidence of attainment of standards in key areas over the last year & Resident Audit - Supportive Care Analysis x 5 deaths to demonstrate that GSF is embedded in practice at resident level.
Part 2: Portfolio of evidence - statement of how you attain the 7 key tasks with supporting evidence and an action plan for sustainability.
Part 3: Assessment Visit - Visit from The GSF Assessment team to assess implementation, team awareness and long-term sustainability.
Part 4: Attendance at the GSF conference to celebrate your success and receive your Quality Hallmark Award.
GSF training is also provided by our Regional Training Centres (RTC). The Regional Training Centres offer live webinar training or face to face workshops locally: Find an RTC near me
Shirley Hall, Head of Innovation and Wellbeing, ExtraCare Charitable Trust, speaking at the GSF Conference, September 2018
European Association for Palliative Care - 17th World Congress - Online 2021 - Retirement Villages - Poster
GSF & Skills for Care Qualifications. GSF has mapped its Quality Improvement Training Programmes to Skills for Care qualifications. The qualifications detail the core learning elements for each unit. These units can be built up to help individuals gain QCF (Qualification Credit Framework) credits and CPD (continuing professional development) points. These credits can be used to gain vocational qualifications at Award, Certificate or Diploma level and sometimes used towards higher level qualifications. For further details, follow the link: Skills for Care Mapping Document
Social Care Registration Form
Register for social care training