Welcome to the Primary Care web page
Background:
Gold Standards Framework (GSF) in primary care was developed originally back in 1998, to enable GPs and Primary Care Teams to provide top quality care for all people in their final year of life, with any condition, in any setting, at any time. GSF 'bronze' level principles were integrated within primary care throughout the UK from 2000, supported by the Department of Health, Royal College of GPs, NICE guidance, Care Quality Commission and others and mainstreamed from 2004 as part of the original GP Contract Quality Outcomes Framework QOF. Now 95% GP practices have GSF/ supportive care registers and regular meetings to discuss these patients, with increasing numbers of identified patients on the register- now almost 40%.
Now further progress has been made in using these principles and pillars of GSF within the NHS Long Term Plan and QOF to promote more proactive person-centred systematic care. But how can GSF help further through bronze, silver and gold offers of support?
See short video below.
Why improve end of life care – and how GSF can help?
GSF Primary Care Programme nutshell video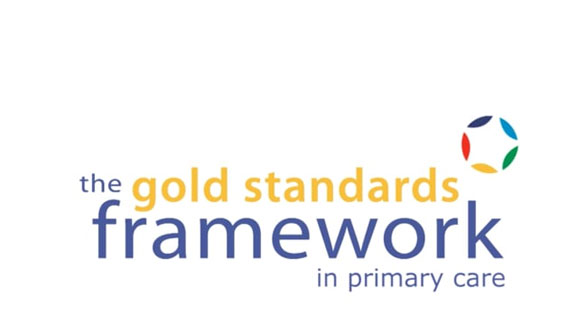 See examples of excellence here;
Frontrunners

Flyer

BMJ Article
GSF Primary Care Flyer Poster summary

The Royal College of General Practitioners has supported endorsed GSF for the last 15 years and co-badges GSF Accreditation with the GSF RCGP Quality Hallmark Award
"The College is pleased to support GSF, as a major component of the RCGP End of Life Care Strategy. End of life care is part of the core business of general practice, and GSF provides a standard against which we can measure our practice and a means to further improve it".
Prof Nigel Mathers, RCGP See video
The UK is the only country in the world to do this and use of GSF has helped many thousands of staff and many millions of patients receive better care. It's a great start……….but there's more to do….

In 2019, with the launch of 2 new national policy initiatives in England, the NHSE Long Term Plan and the 2019 QOF GP Contract in End of Life care, more GP practices are being encouraged to continue to improve end of life care, to provide more proactive person-centred coordinated care, with more people; identified to be in their last year of life, more offered advance care planning discussions and more enabled to live well and die well in the place and manner of their choosing. For details see our Policy document
We at GSF can help you do this with our Bronze Silver and Gold Support for GP practices and Primary care Networks.
Building on your use of GSF at Bronze or foundation level, GSF can now support you in your practice to achieve:-
Earlier identification of more patients and their families

for more proactive care

More offered advance care planning discussions

for more person-centred care

Improved coordination of care

to reduce hospital admissions and deaths
The new GSF Support Offer includes 5 elements - see the full details
GSF Support Offer Summary shown below;
GSF Support Offer
What is provided
How it helps you

1. Audit tool

Cost dependent on requirements

After Death Analysis online audit tool at patient level + automated reports

Supportive your quality improvement and evidences progress - a requirement of QOF

2. Bronze Support

NOTE - Free GSF Support for QOF on GSF website
* PIG - Proactive Identification Guidance helping early identification
* ACP - Advance Care planning tools, video and guidance
* QOF Step by Step Guide + meetings

Free resources to help you identify patients early, offer advance care planning and provide more person-centred care and be able to evidence quality improvement to enable claiming of QOF points

3. Silver

About £395/practice

* QI Audit varying levels (3)
* Quality Improvement workbook
* Videos - Animated summary + others
* Helps kick start change in your practice
* QI activity evidence for QOF points
* Certificate level GSF

4. Gold

About £595/practice

* Going for Gold - Comprehensive practice-based programme
* Good Practice Guides, resources, videos, action plan etc
* Audit - before /after audits + reports
* Practice based training with interactive modules involving the whole team
* Fully resourced QI Guidance, ADA audits
* Leads to GSF RCGP Practice Accreditation and Quality Hallmark Award

5. Additional Support

Cost dependent on requirements

* GSF Digital (e-PIG) - identify early
* Advance Care Planning Support
* Workshops - Triple Integrated Care Launch GP, GP/Care homes, cross boundary care, etc
* Automated Digital IT support enabling early identification of patients for register
* Package of support enabling greater patient uptake of Advance Care Planning
* Interactive workshops as required
How to do it?
| | | |
| --- | --- | --- |
| | | |
| Available for individual and multiple practices | | GSF Digital - helping early identification |
The benefits of using the new GSF Support Offers are that they builds on your current GSF usage, GSF is tried and tested for over 15 years, GSF helps the 'HOW' to do it, as well as 'WHAT' to do , GSF Gold is endorsed and co-badged by RCGP and frontrunning practices find it invaluable to kick-start change and it can complement other local or national initiatives.

"GSF presents the vision but also the practical tools and resources to make it happen. Doing 'GSF Going for Gold' with our practices has been transformational - it really works. It's the difference between the Premier League and League Division Three"

Dr Peter Nightingale, GP Lead,
former RCGP End of Life Care Lead


"The GSF programme has helped us change the culture of the practice. Now, with better planning, communication and coordination, we have increased the number of people dying in their preferred place and significantly improved the support we provide their carers."

Dr Ian Livingstone, GP Lead,
GSF Accredited practice

"GSF has been transformational for us as a practice and for our patients."
Dr Au GP, GSF Accredited practice,
North West
So what do GPs and RCGP say about GSF?
NEW Frontrunners Primary Care - video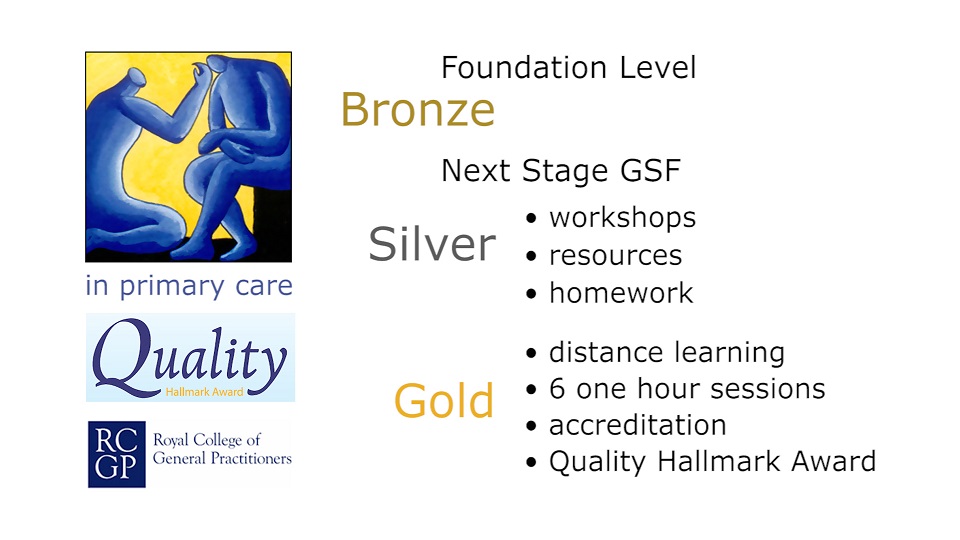 Practice feedback on the GSF Going for gold programme:

"GSF has really helped us to have a good structure in place and given everyone in the practice the confidence to initiate what can be difficult conversations with people about where and how they want to be cared for and that means everyone feels more in control."

Dr Sally Giovanelli, GSF 2nd time Accredited practice, Derbyshire


"GSF has helped us to provide end of life care for a much wider patient group and reduced our hospital admissions - we're providing better quality, cost-effective care, enabling more patients to die in their preferred place."

Dr Helena Rolfe, Ilkley Moor Medical Practice, West Yorkshire
CQC inspections: Use of GSF also helps evidence excellence in your CQC inspections of GP practices, care homes, hospitals, etc. See - GSF & CQC Information sheet
Several GSF accredited practices, care homes and hospitals have received outstanding CQC reports.
What GSF measures and improves?
Earlier identification rates of patients with all diagnoses, at home or in care homes - average over 70%
Better collaboration with care homes staff - reducing crises for frail elderly residents
More offered advance care planning discussions and choices noted - about 70% identified patients
Better coordination, more living and dying at home - reducing crises and hospital deaths.
Supporting families and carers, and in bereavement with improved support and bereavement care
Improving teamwork - involving the whole primary care team - everyone's involved in end of life care
Improving integrated cross boundary communication and care - whole system change in CCGs/ICS
Examples of best practice - what can be achieved by GSF Accredited practices

For more details on improving cross boundary care - see our Cross Boundary Care web page
Next Steps
Register an expression of interest for either silver or gold programme -

Register

Contact GSF Centre for more details - Tel:

0207 7893 740
​For background information and benefits of doing Going for Gold - see website, contact us for a discussion or view this videoed summary below;
Background to GSF in Primary Care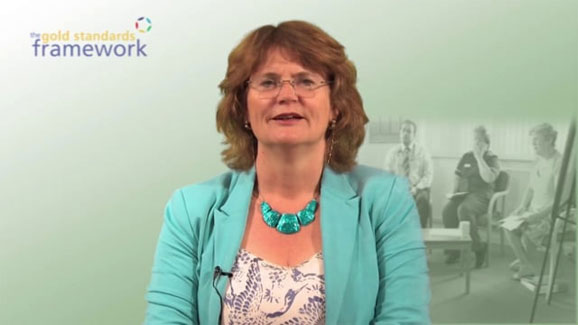 Updated: 12/6/2019