News Articles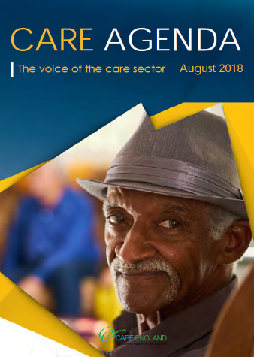 Article featured in Care Agenda
Gold Standards Framework Care Homes Programme - by Professor Keri Thomas OBE

Article featured in Care Management Matters
Best practice in end of life care Developments with Gold Standards Framework
Professor Keri Thomas OBE updates on best practice in end of life care, developments with the Gold Standards Framework for Social Care and the impact it can have on social care and health.

Clink link for Article
https://www.caremanagementmatters.co.uk/feature/best-practice-in-end-of-life-care/



Article printed in The Shropshire Star on 30 December 2016
Dr Keri Thomas, who founded the UK's largest provider of end-of-life-care training, is credited with improving the lives of a million people.
She set up the Shrewsbury-based Gold Standards Framework, which lays down nationally recognised standards for organisations which provide care for people approaching the end of their lives.
Life and death matters, your chance to make a difference
Politics First Article
July 2015
Politics First Article July 2015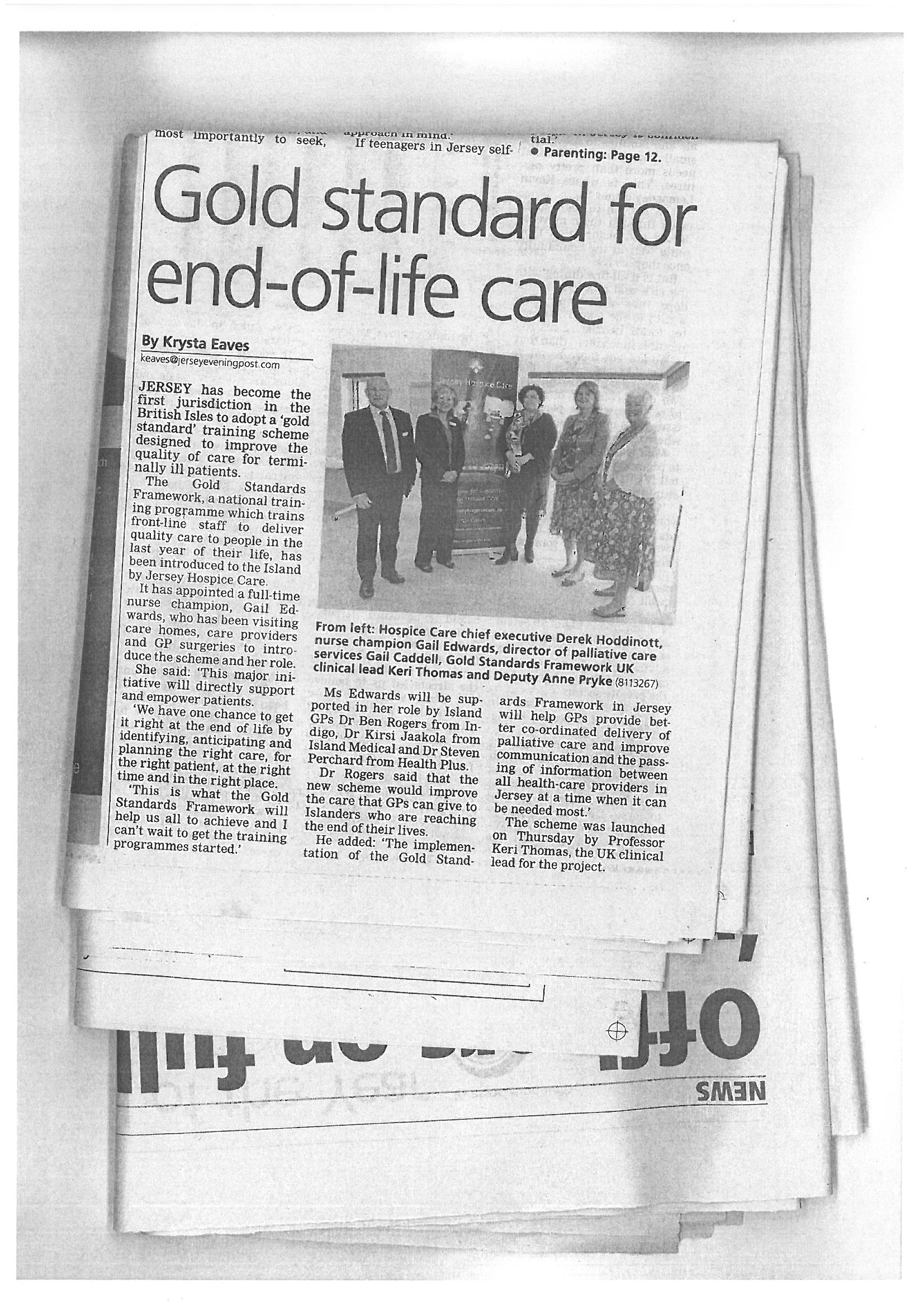 Gold Standard for end-of-life care
Krysta Eaves
Over the period of 16th - 18th April, 2015, Professor Keri Thomas and Clinicians Chris Elgar and Lucy Giles visited the island of Jersey to deliver the launch of one of GSF's most comprehensive Cross Boundary Care projects.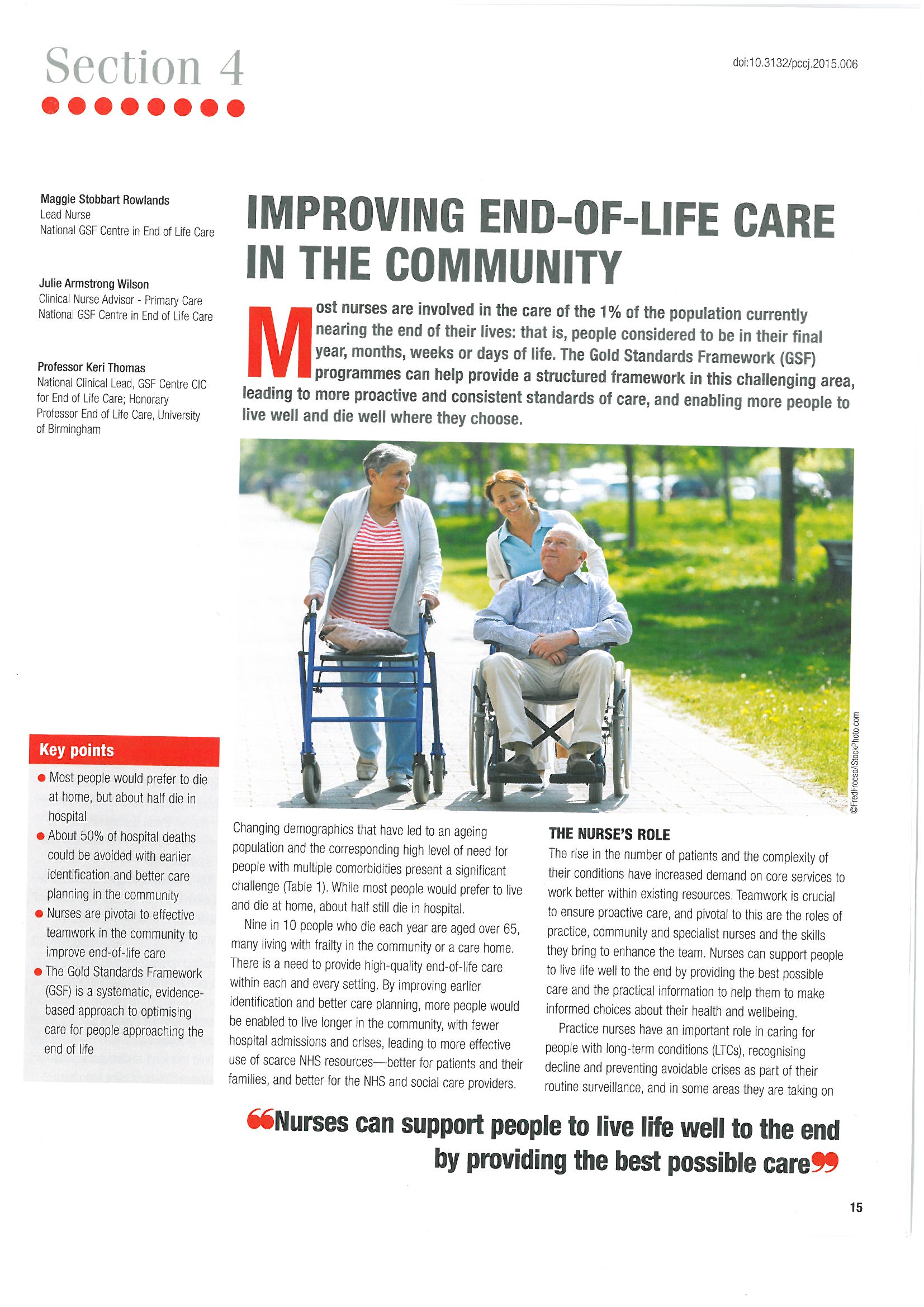 Improving End of life Care in the Community
Maggie Stobbart-Rowlands, Julie Armstrong-Wilson & Professor Keri Thomas
Most nurses are involved in the care of 1% population currently nearing the end of their lives: that is, people considered to be in their final year, months, weeks or days of life. The Gold Standards Framework (GSF) programmes can help provide a structured framework in this challenging area, leading more people to live and die well where they choose.
British Journal of Primary Care Nursing, Volume 12, Issue 1, Jan/Feb/Mar 2015
http://www.bjpcn-cardiovascular.com/download/3921
Please access the link above for the entire article.
BBC 4 Interview - Inside Health - February 2015
Article featured in the Shropshire Star on 11 March 2015 entitled 'Talk about dying is not all gloom'.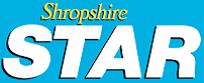 To view the full article - click here
Keri Thomas' article featured on Guidelines in Practice Journal -Thomas K. Guidelines in Practice January 2015 issue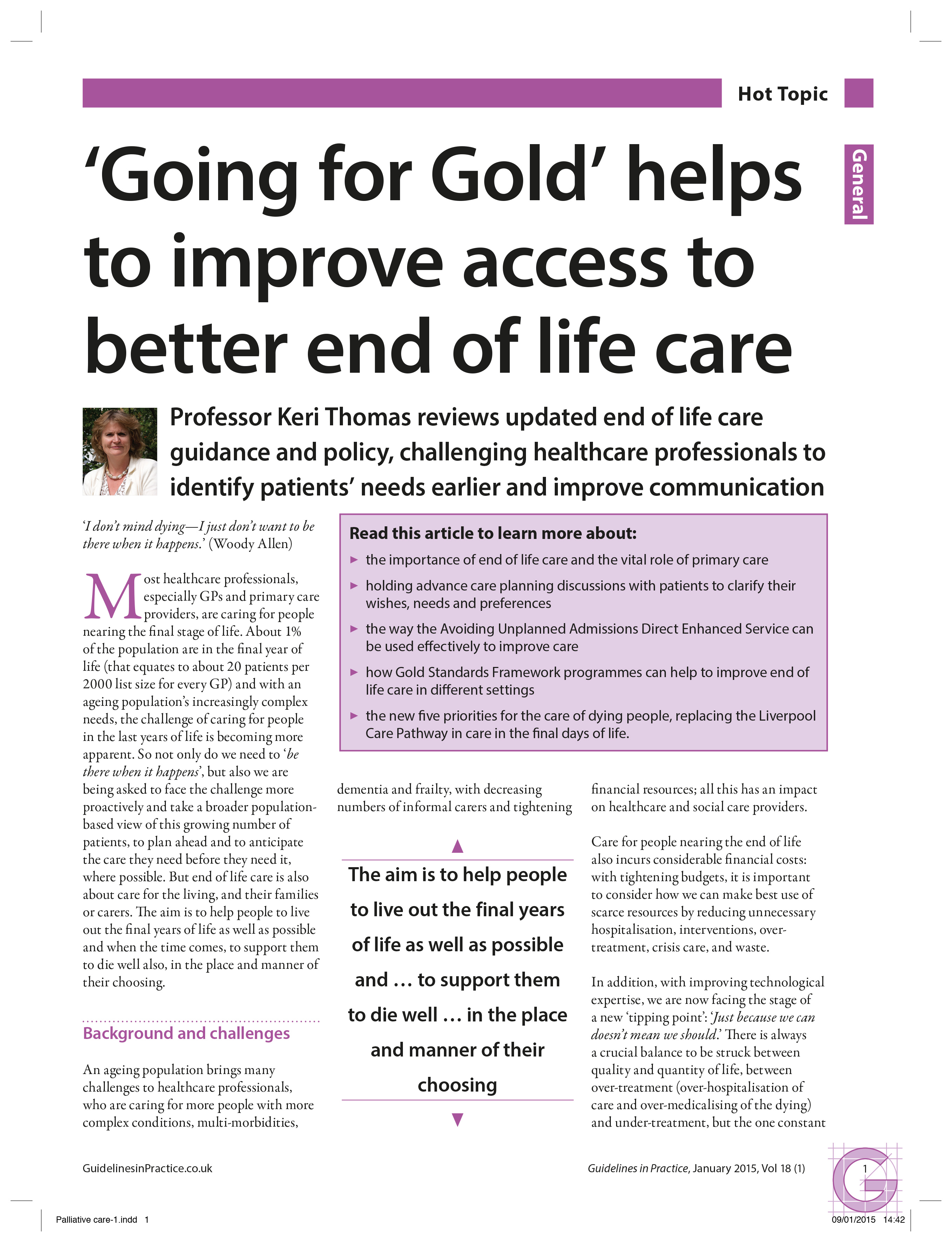 Professor Keri Thomas reviews updated end of life care guidance and policy, challenging healthcare professionals to identify patients' needs earlier and improve communication.
To view the full article - click here
Achieving Gold in End of Life Care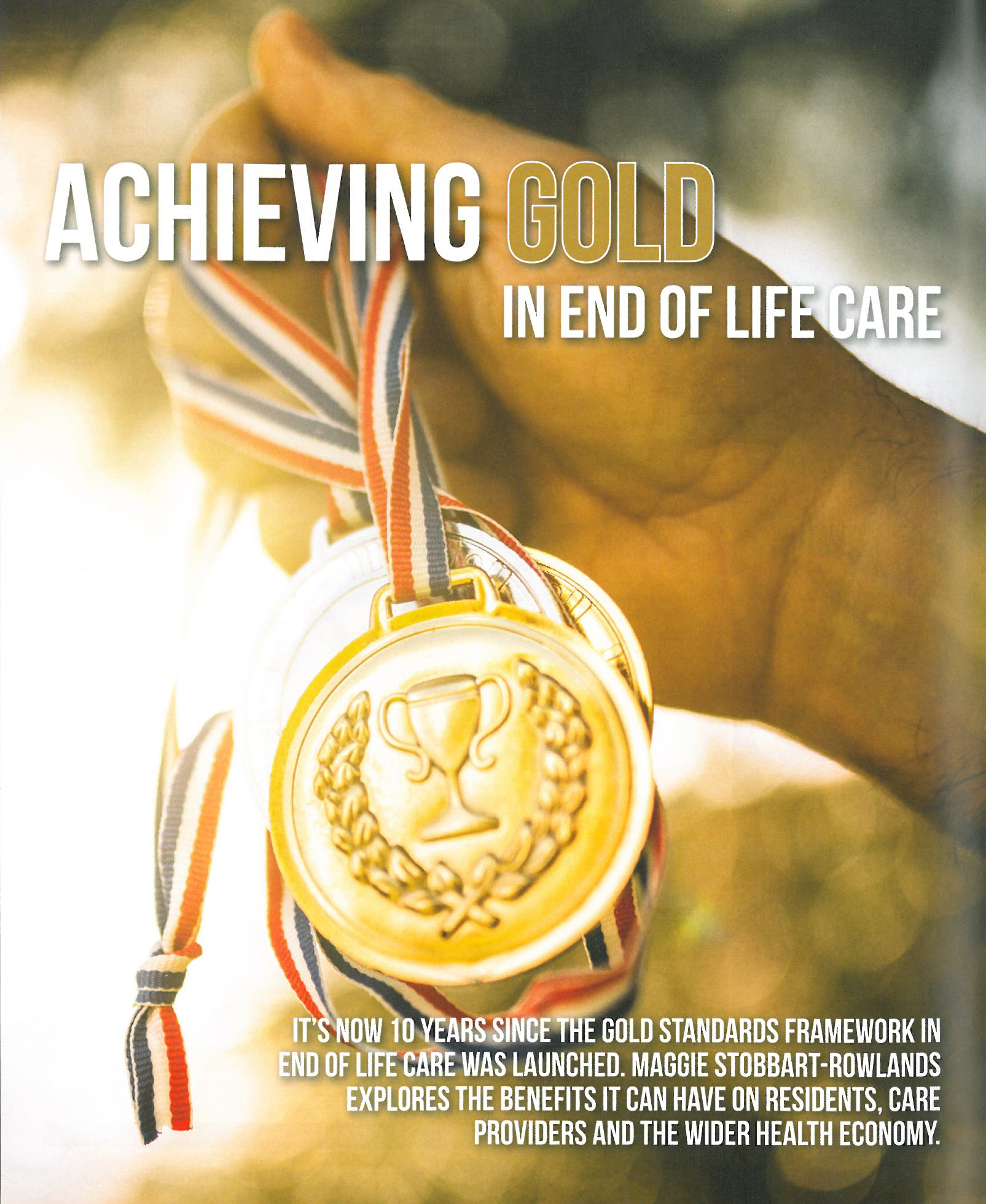 It's now 10 years since the Gold Standards Framework in End of Life Care was launched. Maggie Stobbart-Rowlands explores the benefits it can have on residents, care providers and the wider health economy.
To view the full article - click here
Keri Thomas features in the Times - Letters to the Editor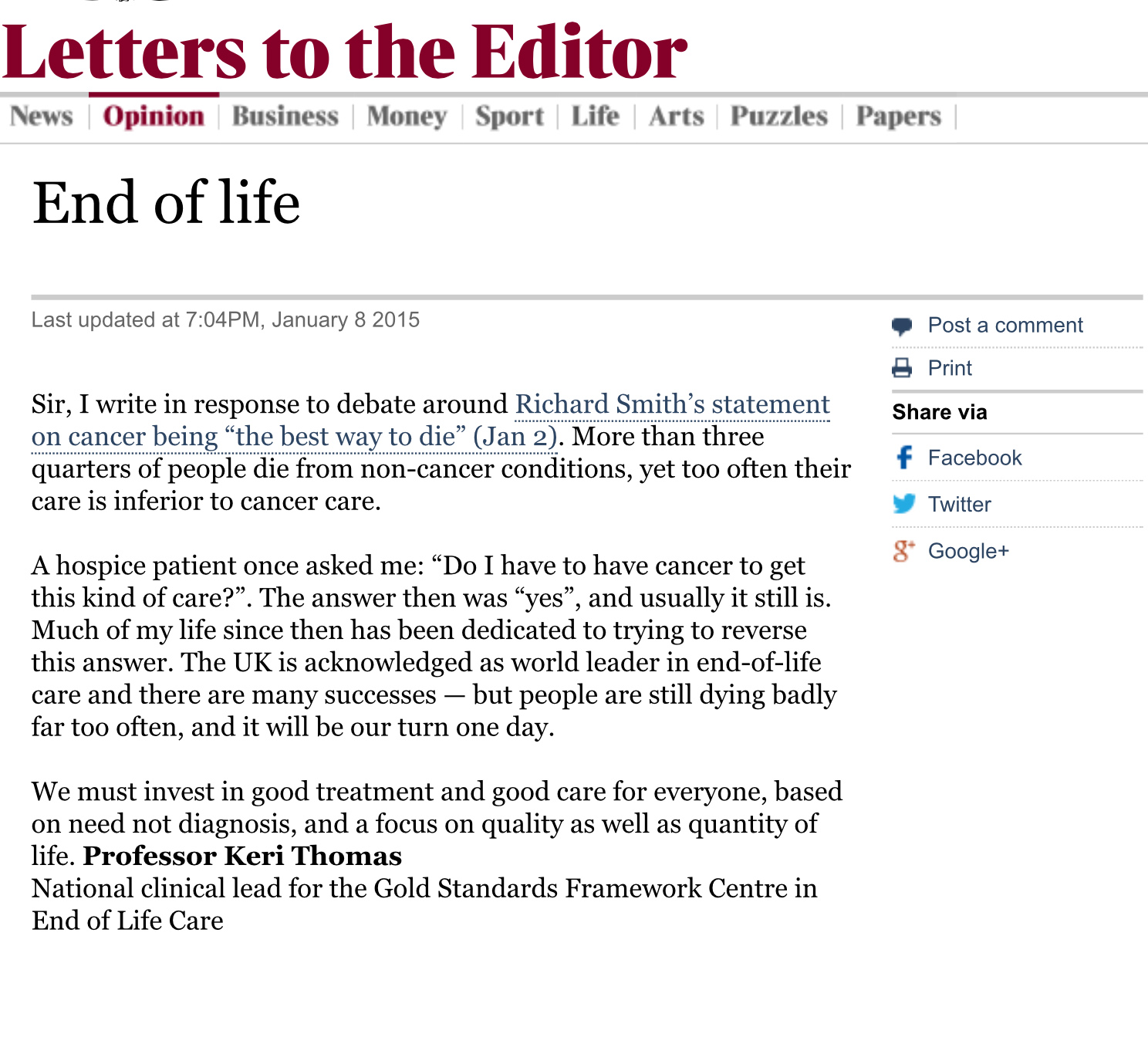 " Sir, I write in response to debate around Richard Smith's statement on cancer being "the best way to die" (Jan 2). More than three quarters of people die from non-cancer conditions, yet too often their care is inferior to cancer care.
A hospice patient once asked me: "Do I have to have cancer to get this kind of care?". The answer then was "yes", and usually it still is. Much of my life since then has been dedicated to trying to reverse this answer. The UK is acknowledged as world leader in end-of-life care and there are many successes — but people are still dying badly far too often, and it will be our turn one day.
We must invest in good treatment and good care for everyone, based on need not diagnosis,and a focus on quality as well as quantity of life."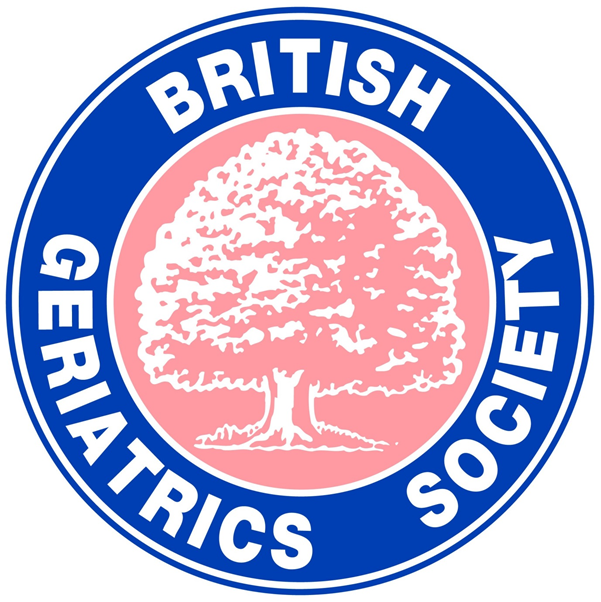 The British Geriatric Society's most recent newsletter features an article from GSF - Structure in the midst of uncertainty: The Gold Standards Framework and Amber Care Bundle.
To view the full article - click here
Invitation for hospices to become GSF regional training centres
The Gold Standards Framework Centre welcomes delegation of Chinese Health Experts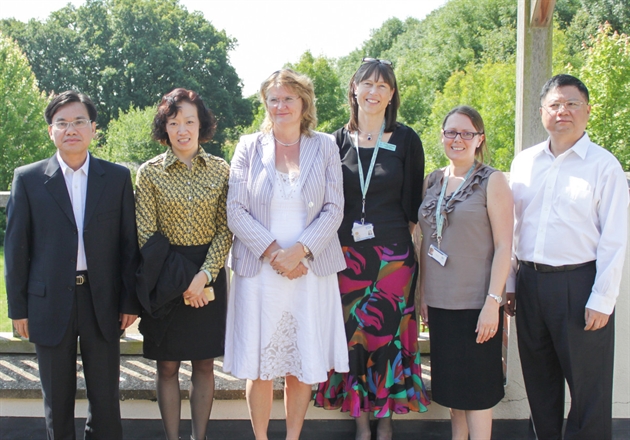 A delegation of healthcare managers from China visited St Richard's Hospice in Worcester yesterday to learn how people nearing the end of their lives are cared for in the UK.
Read more about their fact-finding trip
The BMJ Awards 2014

BMJ Awards update - The BMJ Awards Ceremony was a black tie event held at the Park Plaza Hotel, Westminster on the evening of Thursday 8 May.
The Gold Standards Framework Primary Care Programme was shortlisted in the Education Team category and although we didn't win, to be shortlisted in the top 6 of the 66 applicants is a fantastic achievement.
A photograph of the GSF Team enjoying the evening.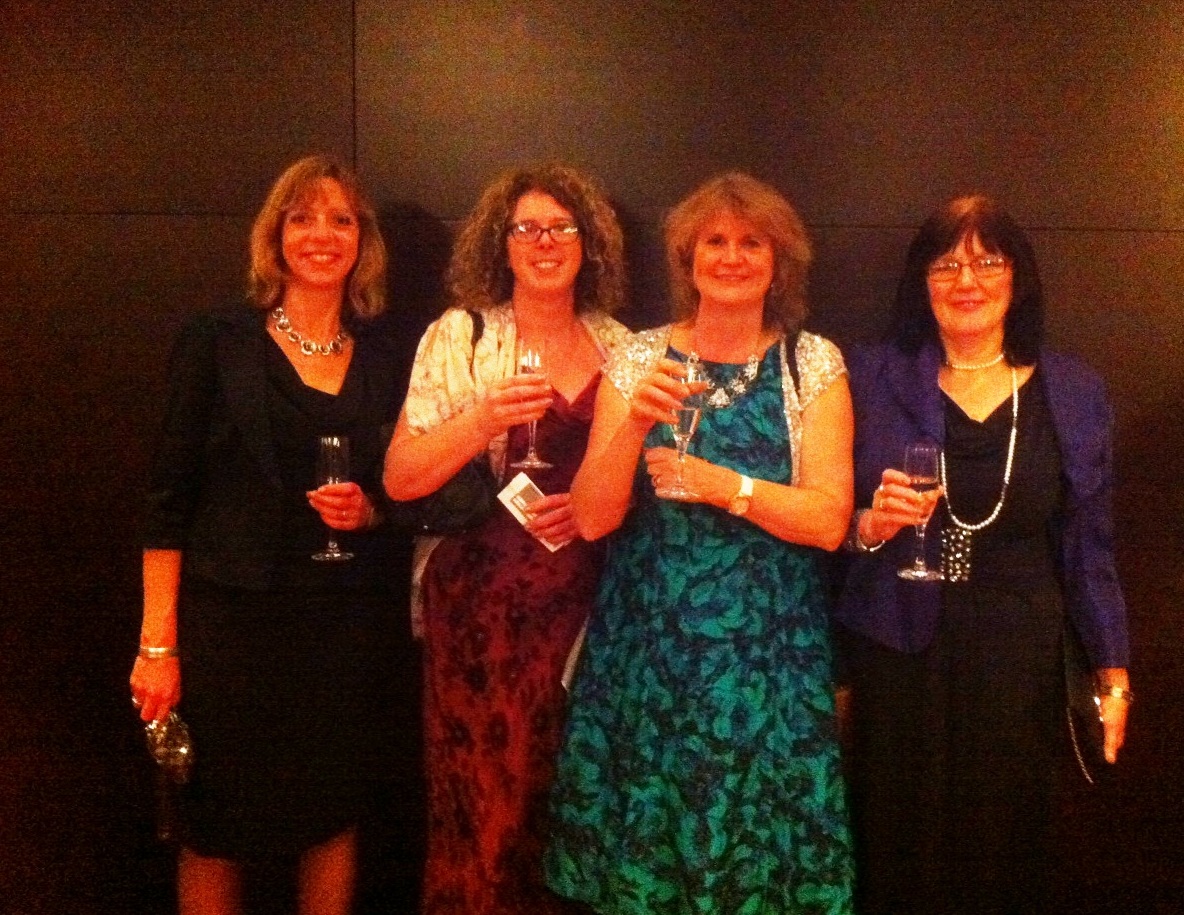 The King's Fund - The Weekly Update: Transforming systems for our ageing population
Joint Statement by the Leadership Alliance for the Care of Dying People - Care for people in the last days and hours of life - click here
Independent Review on the Liverpool Care Pathway - click here
Guidance for doctors and nurses caring for people in the last days of life (NHS England) - click here
NHS IQ part of leadership alliance formed in response to Liverpool Care Pathway review - click here
Blog for GP by Professor Keri Thomas - click here
'Mobilising the workforce in end of life care' Thomas K, (2014), Inside Palliative Care
'End of life care is a litmus test for the whole of the NHS' Thomas K, (2014), HSJ Resource Centre, 21-23
'End of life care training in care homes should be mandatory', says end of life care expert, featured in the News and Events section of Carehome.co.uk. Please for the full article.
The Final Curtain (interview with Keri Thomas for an article that appeared in the Guardian paper on 28 Jan 2009). Assisted suicide overshadows the debate about how to die, but the NHS end of life care champion tells Mark Gould why making plans for how we want to end our days might prevent impersonal hospital deaths
"An out of hours protocol for community palliative care: practitioners perspectives" King N, Thomas K, et al (2003), Int J Palliat Nurs 9(7): 277-82
updated 23/2/2017