Contact Us

GSF Training Programmes
Aim – Quality improvement training programmes and frameworks to enable frontline generalist care providers to deliver a 'gold standard' of care for all people nearing the end of life.
The National Gold Standards Framework Centre offers well validated quality improvement training programmes in End of Life Care for use in many settings. The training programmes enable generalist frontline staff in health and social care to provide a 'gold standard' of care for all people nearing the end of life. The key is enablement – GSF focuses on supporting the learning of new knowledge, skills and changing attitudes within teams through a practical interactive process leading to creative transformation. "This is less about what you know but more about what you do".
They are comprehensive, practical and made specifically relevant to each setting, to ensure they successfully support all generalist frontline staff in this area. They have been shown to improve the levels of confidence of staff, their knowledge skills and attitude, and to make significant differences to care for people nearing the end of life.
The programmes include evaluation and self-assessment to enable effective change and means to sustain good practice long term. They are well audit validated in each sector, for example GSF Centre has been awarded Excellence by the National Skills Academy. Several programmes now lead to Accreditation and the presentation of the GSF Quality hallmark Award.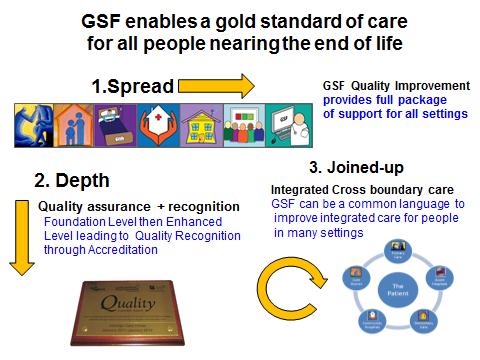 We provide tools, skills and resources for the usual generalist care provider to enable them to give better care for people nearing the end of life, and better work with specialists. This includes care:
All people considered to be in the final years of life

For people with any condition or diagnosis

For people in any setting, 'in whichever bed they are in'

Provided by any person, health or social care professional

At the time of need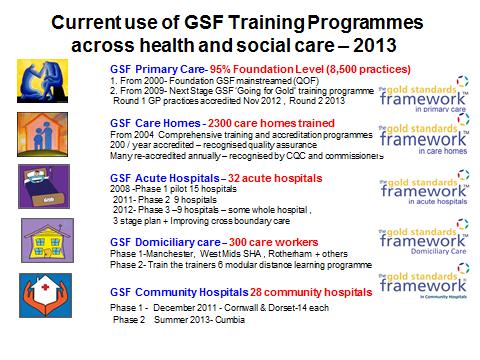 There are 4 Levels of learning/ areas of quality care
Individual - staff knowledge , care aligned to pt preference – care for pt and carer
Organisational - effective consistent teamwork and collaboration within particular teams eg care home, practice, ward – GSF (Microsystems)
Community - effective collaboration beyond teams cross boundary e.g. decreased admissions
National - helps to meet national quality markers, standards and targets
There are 3 Stages of GSF Training Programme
Stage 1 Preparation
Introduction - briefing paper

Preparation pack

Baseline measures evaluation
Stage 2 Training and implementation
Training workshops/ sessions/ modules

Resources- Good Practice Guide, DVD, Workbook etc

On going support and embedding
Stage 3 Consolidation and moving towards accreditation
Follow up measures evaluation

Accreditation process

Quality Hallmark Award
The GSF Training Programme: What do the sessions cover?
There are 3 learning outcomes for each session, linked to the Quality Markers, with practical illustrations and exercises to help self reflection and action planning.
Usually introductory session, 4 sessions + follow up moving towards accreditation
Levels of Attainment
Organisations such as GP practices, care homes and hospitals can attain one of three levels of implementation or attainment in a local area:
General awarenessof GSF principles but not full systematic implementation – most organisations involved in end of life care are aware of GSF and use some principles and tools
Foundation level, as defined within each setting eg the QOF standard in primary care teams or the defined Foundation Level in acute hospitals
Enhanced level, leading to Accreditation in each setting eg the GSF accredited care homes and practice teams that have received the GSF Quality Hallmark Award
Settings - Includes all places where people live and die -
Health care within the NHS
Primary Care
Acute Hospitals


Community Hospitals




Social Care




GSF Care Homes - Nursing and Residential
GSF Domiciliary Care - Home


Home Healthcare - In development



Other areas


Dementia Care




GSF Hospice Care - In development




Cross Boundary Care Foundation Sites




GSF Prisons - Pilot




Spiritual Care, Bereavement Care - In development




Foundation Clinical skills - in development




International use of GSF
return to training programme menu
updated 17/11/15