Contact Us
To get in touch with us please use the form below or visit the Contact Us page for more information.

Commissioning End of Life Care using the Gold Standards Framework (GSF)
As the leading provider of quality improvement, accredited, evidenced based end of life care training for frontline health & social care staff in the UK, GSF Programmes can be used to enhance the commissioning of services in terms of Quality Improvement, Assurance, and Recognition for Quality Outcomes.
Quality Improvement
Improved quality of care for people nearing the end of life, their carers and families
Significant reductions in costs by reducing unnecessary hospital admissions
Quality outcomes for commissioned contracts
Improved cost effective provision of services & communications across health & social care
After Death Audits (ADA)

Quality Assurance
GSF programmes are recognised by the CQC and provide a quality assured approach to end of life care across health & social care
GSF programmes meet targets i.e. CQUINS QIPP, NICE standards, DH Quality Markers, CQC, & Skills for Care etc.
Meets National policy i.e. End of life Care – Francis Report recommendations

Quality Recognition
Care Quality Commission (CQC) recognised as a marker of excellence – risk profile for inspection
National Skills Academy - Excellent Provider
Skills for Care
GSF programmes raise the standard of independent providers, empowering staff, patients and their families
​GSF helps put national policy into practice
GSF both influences national policy developments, and helps put policy into practice on the ground supporting grass-roots change in line with NHS Long Term Plan, NICE Guidance, Enhanced Health in Care Homes, DH EOLC Strategy, Ambitions Care Quality Commission (CQC), and Skills for Care etc.
How GSF helps you to implement the NHSE Long Term Plan
The National GSF Centre provides locally delivered quality assured End of Life training programmes for:

Spiritual Care Clinical Skills Cross Boundary Community Hospitals Acute Hoispitals Care Home

Primary care Hospice Domicilary Care Dementia IT Solutions VLZ
Outcome Examples
GSF in Primary Care: Inclusion on GSF/Palliative care register on average 54% for 10 practices
GSF Care Homes: Cumulative data identified that GSF accredited homes achieve an average of over 80% home death rate, showing a significant reduction in hospital deaths of care home residents. In South East London place of death in a care home increased from 56% to 79%.
GSF Acute Hospitals: 40 plus hospitals to date, 35% identified early (range 20-58%), 92% offered ACP discussion (range 85-100%), length of stay reduced, carers support improved, more discharged home, 80% 5Ps care final days plan.
GSF Commissioners Flyer

HSJ Article - Prof. Keri Thomas 'Search for Dignity' September 2012

HSJ Commissioning Article September 2012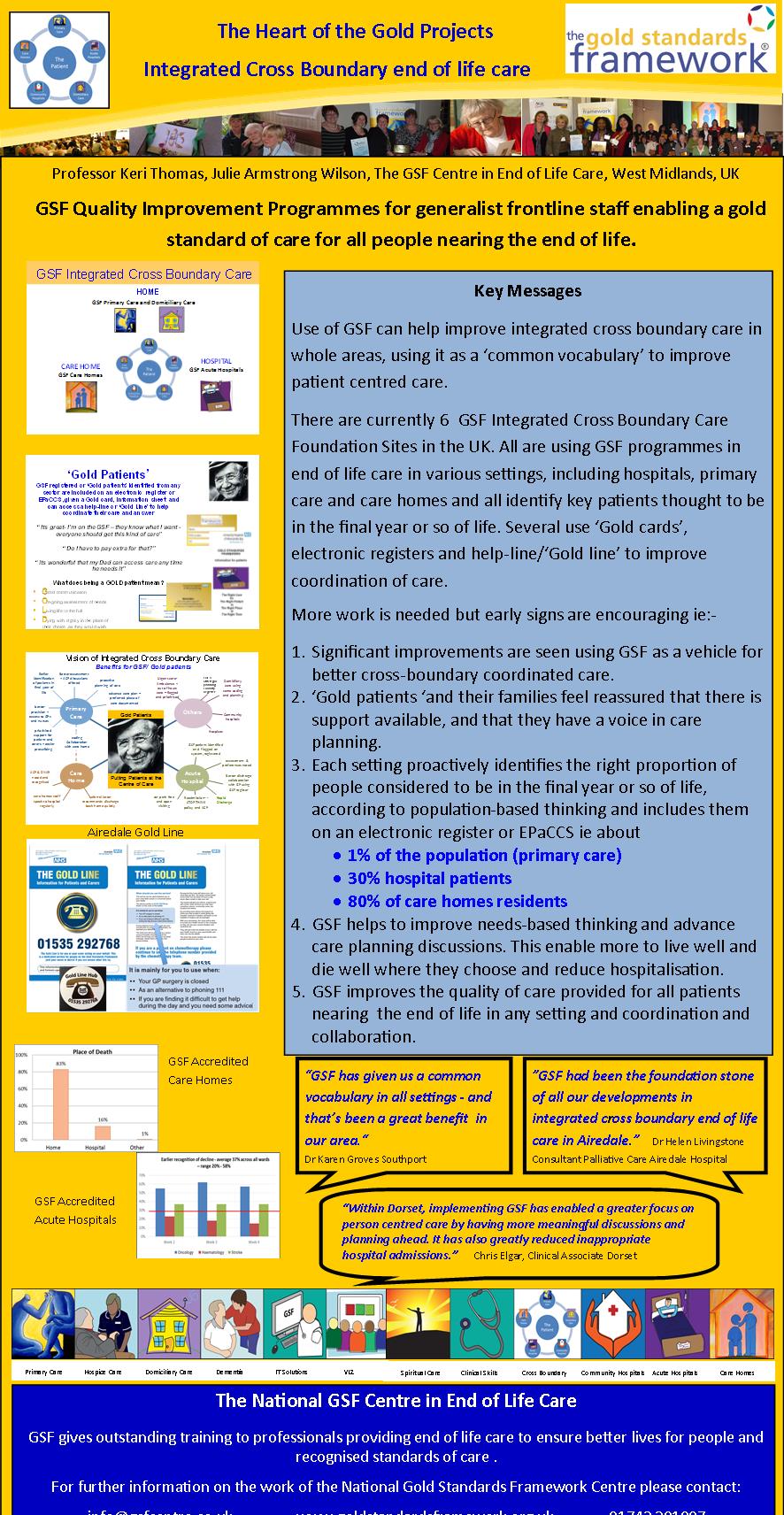 Poster summary of our Cross Boundary Care programme
To register your interest and receive details regarding GSF programmes and how GSF can be used to maximise commissioning contracts please use the Contact Us section.
updated 18/11/15