History
Origins and History of GSF
Developed from 'the bedside not the boardroom'- refined by clinicians rooted in practice in each setting to ensure programmes are transferable, effective and sustainable in practice.
GSF was originally developed in 2000 as a grass roots initiative to improve primary palliative care from within primary care. Developed by Dr Keri Thomas, a GP with a special interest in Palliative Care, supported by a multidisciplinary reference group of specialists and generalists it was first piloted in Yorkshire in 2001, followed by a national phased programme supported by the NHS, Macmillan and more recently the DH End of Life Care Programme.
National spread was enabled through a strategic national cascade plan with the GSF Central Team supporting local facilitators, enabling best implementation of the work, overseeing training and audit plus developing further adaptations and resources.
As well as Primary Care GSF now provides training programmes in Care Homes (2004) , Domiciliary Care (2012) , Acute and Community Hospitals(2010), Dementia Care (2012) with new developments including Spiritual Care and Clinical Skills.
Since 2010, more training programmes have become distance learning with –e-supported group learning through the GSF Virtual Learning Zone and DVDs.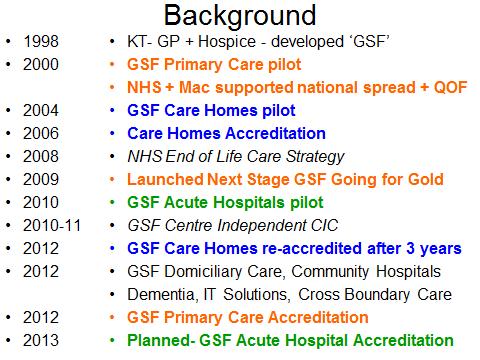 GSF has developed and expanded over the last twelve years to meet the challenge of end of life care, in the light of the NHS End of Life Care Strategy in England and the growing acceptance of its importance within health and social care in our country.
International use has also increased with interest from over 13 countries, specifically China and Japan, and pilots in Australia, New Zealand, USA, Canada, Belgium, Holland etc
The Evidence base and evaluations. An intrinsic element of the work has been the internal and external evaluations, originally using questionnaires and more recently the on-line After Death Analysis audit tool, plus several independent University based evaluations, which contributed to the further development of the work (see Evidence base and Summaries of Evaluations)
The work is now based at the National GSF Centre in Shropshire, and led by Prof Keri Thomas (National Clinical Lead for the GSF Centre and Hon Professor End of Life Care, University of Birmingham) with a small central team of very committed clinicians plus admin support, Clinical Associates and reference groups.
Background to Gold Standards Framework (GSF)
GSF Primary Care Programme
Developed in 2000 from within primary care for primary care

Optimising care and best working with specialists

Mainstreamed through QOF at Basic/ Foundation Level to 95% GP practices from 2005

Evidence based, recommended best practice model spread through the UK NHS and now other countries

Accreditation and the Quality hallmark award began 2012, supported by RCGP
GSF Care Homes (GSFCH)
Comprehensive quality improvement programme - developed in 2004

Three stages: preparation, training and accreditation against 20 quality standards

Now the biggest palliative care/ end of life care training programme in care homes in the UK

Accreditation began 2008 – 564 accredited with 237 having achieved re-accreditation

Accredited care homes recognised by regulators CQC, commissioners and the public
GSF Acute Hospitals Programme
Piloted within 15 hospitals during 2009, since then annual phases 1/year

Improves quality of care, patient satisfaction, assessment of needs and advance care planning

Reduction in hospitalisation through rapid discharge, reduced length of stay and readmission

Meets the DH Quality Markers, many local CQINS, NICE Standards, QIPP agenda etc

Accreditation began 2015- 5 wards accredited to date
GSF Domiciliary Care
Piloted during 2011- annual phases – over 300 care workers and 30 agencies trained

Supports organisations in the achievement of quality markers and targets

Locally based programme with train the trainers approach

Certificates and full evaluation- no accreditation of agencies
GSF Community Hospitals
Piloted in 28 Community Hospitals throughout the South West and further 14 in Cumbria

Greater co-ordination and cross boundary care – proactive rather than reactive

Meets all DH End of Life Care Quality Markers for Community Hospitals (2009)

Accreditation began 2014 - 14 organisations (wards/full hospitals) accredited
GSF After Death Analysis Audit Tool (ADA)
Online assessment tool for GSF programmes

Measures the effectiveness of systems by looking at specific key topics

Can be used in a range of settings to assess and improve care provision
Other GSF Support Programmes
Dementia Care

Spiritual Care

Clinical Skills

Virtual Learning Zone –many programmes via the VLZ since 2012

GSF IT Solutions – System support enabling Primary Care Trusts and/or Practices to improve identification, coordination, evaluation, communication and support for patients and all involved in their end of life care
updated 8/11/15