GSF Primary Care 'Going for Gold' Training Programme
Description & background - Next Stage GSF Primary Care 'Going for Gold'
The new GSF Quality Improvement Training Programme, building on QOF Foundation Level GSF to support the NHS End of Life Care Strategy and 'Find the 1% campaign'
The Gold Standards Framework (GSF) for Primary Care is a well-used evidence based systematic approach to improving the quality and organisation of care for all people nearing the end of life.
Although over 95% of UK GP practices adopt the basic principles of GSF at Foundation Level to meet their QOF targets, there is evidence that most are not using it to its full potential to help deliver best possible care for all appropriate patients in the final year of life. With the developments in policy in End of Life Care, growing use of GSF in care homes and other settings, more Locality Registers and the QIPP 'Find the 1% campaign', there is a need to build on the good work of many practices even further; not just Foundation Level GSF, but to 'go for gold'. As we face increasing numbers of deaths from 2012, more with long-term conditions and radical demographic changes, there has never been a more important time to improve the primary care provision of end of life care for all patients.
Programme - The GSF 'Going for Gold' Primary Care Training Programme
GSF aims to help you improve the:
Quality of care provided in alignment with preferences
Coordination of care and collaboration within and between teams
Cost effectiveness by reducing hospitalisation
It helps you do this by improving earlier identification of people nearing the end of life, having and recording those crucial conversations or 'Advance Care Planning discussions', and enabling better coordination and team working; leading to top quality care in alignment with the wishes of patients and their families.
The 'Going for Gold' GSF Training Programme is designed to give a new impetus to delivering high quality end of life care in primary care. It helps attain local and national policy targets, including NICE Standards, encourages cross-boundary working, and helps reduce avoidable hospitalisation leading to cost savings. There are four one-hour lunchtime sessions required as a team, with introduction and follow up, plus homework in between.
There are 3 learning outcomes for each session, linked to the NICE/Quality Markers, with practical illustrations and exercises to help self-reflection and action planning, via DVD Distance Leaning.

Meeting targets & Quality Markers
The programme helps you meet your DH Quality Markers, QIPP targets, EOLC NICE standards, and many local CQUIN targets and other local targets.
How and where training is delivered
The training is delivered within the practice using the resources either in hard copy, DVD or on the GSF Virtual Learning Zone. The filmed sessions include activities for the team to stop and interact, planning their own development at their own pace.
There is an option of GSF in a day launch workshop for group of practices. This is a good way to launch GSF and is a very popular full or half day crash workshop, led by the GSF Central Team, covering the key elements of the programme. This is an enjoyable interactive way to convey the key messages and enables teams to return to their practices informed and ready to get going.
Programme length
The comprehensive programme includes everything required to run the training in your practice covering 6 sessions over about 6-9 months.

Benefits and outcomes
Frontrunners in Primary Care Flyer
Examples of best practice - what can be achieved by Practices
1. Ten GP practices undertaking Going for Gold and GSF Accreditation have shown:
Trebling of numbers of patients on Palliative Care / GSF Register (range 32%-69%)

Trebling of non-cancer and care homes patients on Palliative Care Register (13%-44%, 15%-44% resp.)

Quadrupling numbers with recorded ACP, DNACPR etc. (15-62%,14-60%)

Increasing numbers dying in usual place of residence (38-50%)

Carers assessment and bereavement protocols increased several fold (3%-60%, 23%-82% resp.)

Development of practice protocols to enable sustained long term quality improvement in ll
2. Thirteen Lancaster GP practices undertaking Going for Gold showed a:
Doubling of patients on Palliative Care Register

Trebling of non-cancer patients on Palliative Care Register

Doubling those with recorded preferred place of care and other benefits
Support provided
When a group of practices is commissioned full support from the GSF Central Team is provided to the local facilitator with:
Optional conference calls

DVD and workbook including Virtual Learning Zone package

GSF IT to help identify the 1% of the practice population

GSF Resources including proactive identification guidance (PIG), needs support matrices (NSM) and other clinical assessment tools are all included in the various programmes
Resources included in the standard package are...
DVD with workshop sessions, including access to VLZ

Good Practice Guide

Personalised Workbook with action plans

Palliative Care Guidance Book
Evaluation
Baseline and follow up Key Ratios, ADA Audits and Staff Confidence Surveys to demonstrate change.
The GSF Quality Recognition and Accreditation process assesses the impact of this training on practice activity and outputs with a well-established quality assurance process.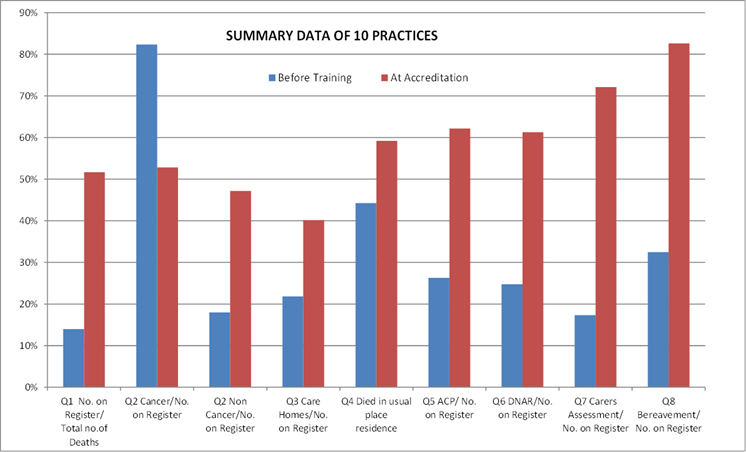 Accreditation
Updated: 12/1/2018