Contact Us
To get in touch with us please use the form below or visit the Contact Us page for more information.
Advance Care Planning
Key Messages
Advance Care (ACP) is important. It is a structured discussion with patients and their families or carers about their wishes and thoughts for the future. Although such discussions may have occurred informally before, it was not occurring with all relevant people or being communicated to others. So the offer of an advance care plan for every appropriate person is now recognised as a key part of good care.
Advance Care planning is key means of improving care for people nearing the end of life and of enabling better planning and provision of care, to help them live and die in the place and the manner of their choosing. The main goal in delivering good end of life care is to be able to clarify peoples' wishes, needs and preferences and deliver care to meet these needs.
Advance care planning is in essence an important yet simple conversation that can change practice and empower patients. It can be a process of discussions over time, a 'relationship' discussion with regular reviews and can helps catalyse deeper communication between patients and their families and loved ones. It need not be 'over medicalised' or too formalised, and could be undertaken by any involved in end of life care, though is best undertaken by experienced trained staff who know the person well, such as GPs, community nurses , care homes staff and specialists.
ACP is a key part of the GSF Programmes. It should be included consistently and systematically so that every appropriate person is offered the chance to have an advance care planning discussion with the most suitable person caring for them e.g., one of the recommendations in GSF training in care homes, primary care and hospitals.
The process of Advance care planning in the UK includes many elements – essentially helping people approaching the end of their life to describe and clarify

What they want to happen
What they don't want to happen
Who will speak for them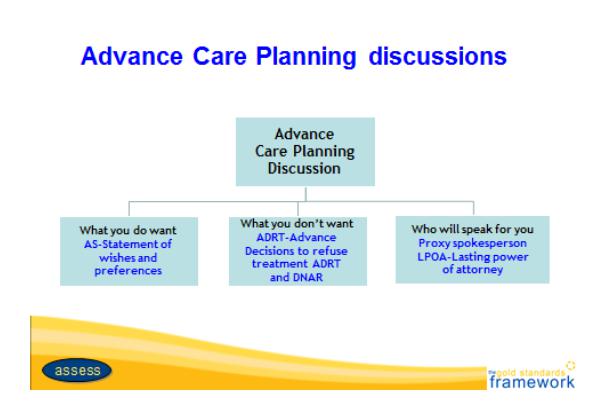 We encourage all people to be given the chance to clarify their wishes, needs and preferences for the kind of care they would like to receive in Advance Statements of preferences (AS), and the means of leading a fuller life meanwhile. Many need to discuss their thoughts on resuscitation and confirm if they do not wish to be resuscitated (DNACPR) or allowed to die naturally (Allow Natural Death/ AND). A fewer number might wish to describe specific medical interventions they don't want to happen, through Advance Decisions to Refuse Treatments (ADRT). Most will also wish to say who might speak for the – proxy spokesperson or legal Lasting Power of Attorney. This is important particularly if it is related to the development of future incapacity, but is important for all to express their wishes.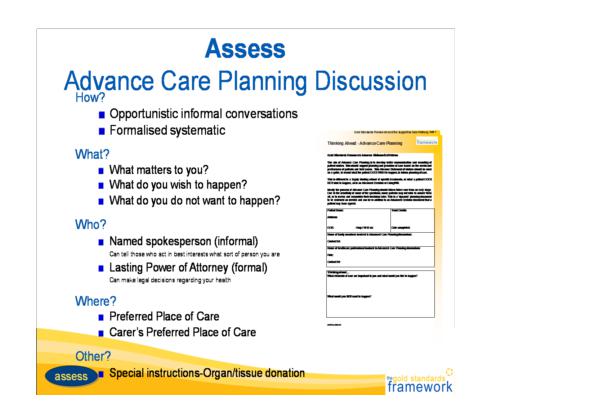 Thinking Ahead - Advance Care Planning (ACP)
To do this there are a number of documents and tools including several locally developed (see website for more examples). The actual tools follow similar lines - the tools used matter less than the process, but the important thing is to have the discussion as part of the caring and therapeutic process.
Advance care planning discussions open up a space in which such plans and reflections can be discussed, a place for contemplating future outcomes and eventualities within a safe environment in order to maximise life in the present. There can be a deeper significance of this discussion, in drawing closer to the person's sense of meaning and core values, of the way they make sense of the world and inner life and in enhancing not decreasing a sense of optimism, self- determination, control and hope.
Thinking Ahead / Advance Care Planning Discussion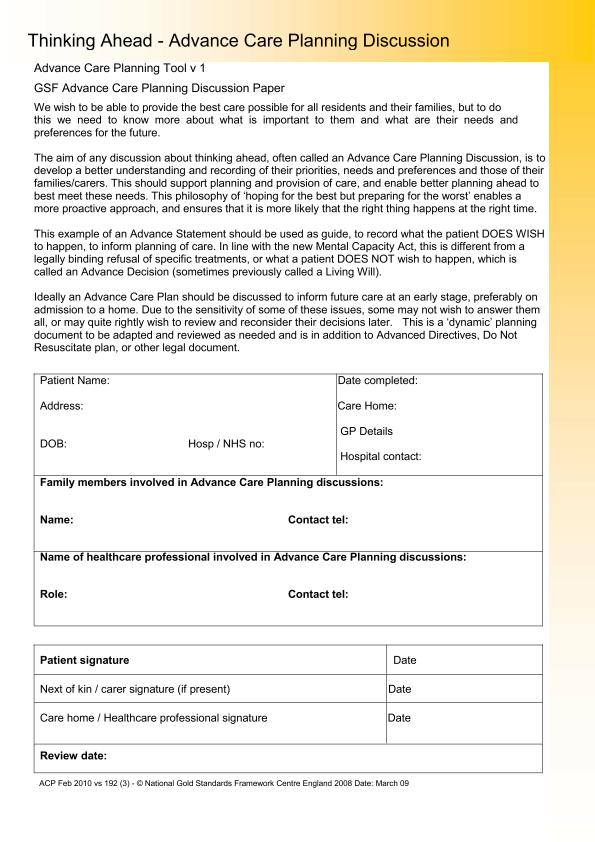 Loss of capacity and ACP. Advance care planning has the potential to improve end of life care by enabling patients to discuss and record their future health and care wishes and also to appoint someone as an advocate or surrogate, thus making the likelihood of these wishes being known and respected at the end of life. This subject is important for those with the ability to make decisions now, to plan ahead and to live life as fully as possible until they die. It is also important to anticipate a time when they may not be able to make such decisions in future, and to plan for this eventuality. This aspect is stressed as a priority by some than by others, and it refers to the various legislations related to mental capacity and development of advocacy or best interest decisions, particularly in the context of the epidemic of dementia now facing us. This is therefore extremely important in the many cases in which people are unable to make clear decisions at a crucial stage in their lives, not just due to dementia, but also due to changes in levels of consciousness and the incapacity of severe illness. But in addition to this, it is also widely held that in fact the process of having this discussion is as important as the outcome. Advance Care Planning discussions can provide a possibility of clarifying future directions and choices so that the issues can be raised, examined and fully discussed, fears both trivial and huge can be clarified and addressed, and a more realistic and pragmatic approach can be taken to living out the final stage of life in the way that is important to that individual person.

How to hold crucial conversations around the end of life - Advance Care Planning discussions
For more information and examples see the GSF website ACP section or 'Advance Care Planning in End of Life Care Ed Thomas K Lobo B OUP 2010.'
Useful information and guidance regarding the Mental Capacity Act
NOTE: please note that there is a section on the draft Mental Capacity Act section 4.6 which also affirms that Advance Statements of wishes can be taken into account when considering best interest and stated preference of the patient involved:"In determining for the purposes of this Act what is in a person's best interests.....He must consider....(a) the person's past and present wishes and feelings (and, in particular, any relevant written statement made by him when he had capacity)."
Section 4.6 of the Mental Capacity Act 2005
Mental Capacity Department for Constitutional Affairs


Links and articles of interest:

Updated: 15/8/2016